2015 was a very important year for me - academically, socially and personally. I feel i've overcome a lot of personal hurdles this year and, without sounding too cheesy, I feel like i'm a much better person because of it. I've seen a lot of people summing up their 2015 in long Facebook statuses and blogposts and although often criticised, I personally like them and wanted to do one myself so here goes:
JANUARY
January was a tough month for me. In December 2014, I was at a really low point academically and questioned whether I was on the right course for me, whether I could last another 3 years or whether i'd be better changing course. After many meetings with advisors at the University, I was advised to sit my winter exams, see how I did and then decide what I wanted to do. After sitting those exams with a severe tonsil infection and having a near breakdown after one of my exams, I was able to go home for the Christmas holidays before returning to University in mid-January. When the time came around to move back to Aberdeen to start the new term, I really dreaded going back. I was mentally exhausted and really needed some time to relax at home. When results came through, I could have wept as I had passed all my exams (with not great marks, but a pass all the same.) From that point onwards, things picked up.
FEBRUARY
February was an improvement, but I wasn't fully back to my old self. Studying a course you have zero interest in is extremely difficult. You lack the motivation to pay full attention in lectures or prepare for tutorials and so any work is put on the back-burner. I was struggling but keep afloat. Aside from University, I was in a less-than-ideal flat situation. I was living in student halls for a 2nd year in a row, in a flat which was constantly dirty and messy, sharing with flatmates I didn't get along with. My saving grace was my flatmate and soon-to-be best friend, Siobhan. From the moment we met, Siobhan and I clicked. It was almost as if we had been friends our whole lives and although very different, it just worked. The nights we would have sitting in our hellhole of a kitchen bitching about our other flatmates, eating snacks and laughing at each other's Tinder matches was the highlight of my day. I have never fully thanked Siobhan and I don't think she realises how much she helped me through that period.
MARCH
On the 2nd March, as I was sitting in my most boring class, I got an email telling me I was given my first choice of ERASMUS locations - Lyon. I was over the moon. I spent the full hour lecture staring at the email in excitement and looking for flats. Ever since I started learning French in high school, I have always looked forward to spending an ERASMUS year abroad in France. It was the only thing pushing me through my exams in Uni and finally it was real.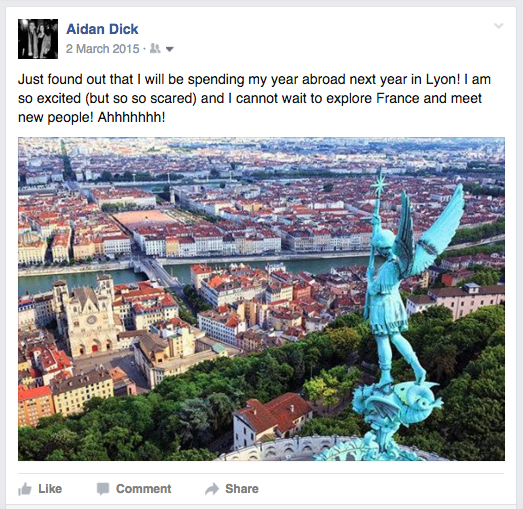 Also in March I went to Blackpool with my parents to visit my brother. Although he lives in Manchester, we decided to "meet in the middle" and have a day out in Blackpool. It was the perfect mini-break from the responsibilities of University and my job. We went to Madame Tussauds, where I had to quickly run out to retrieve a bag I had left at the restaurant where we had lunch. We then went to Blackpool Dungeons which was hilarious because my Dad kept being picked on for the different scenes they act out. Luckily I escaped the humiliation and was able to laugh at everyone else. Overall it was an enjoyable day and took my mind off the impending coursework due halfway through the semester.
APRIL
At the start of April, my Mum and I took a trip to Lyon to visit where I would be living from September onwards. It was the first trip we had taken just the two of us and I loved every second of it. We stayed in a little authentic apartment in a new part of the city and on the first night, after travelling for what seemed like forever, we went straight out for some food. With eyes bigger than our bellies, we ordered a big sharing starter, 2 massive main courses and 1 too many cocktails haha. Safe to say we were v v full and a little tipsy. We then spent the rest of our time doing everything touristy that there is to do in Lyon. It got me so much more excited for moving over in August, but I had to get through a set of exams first before that was possible. I had also taken my DSLR camera, which I got as a present for my 19th birthday in January, and was able to take some nice photos of the beautiful city. Overall, it was perfect.
April was also an important month for me personally. For a long time I have not been comfortable in my skin for different reasons. Through the months of February-April I became more comfortable in myself - I was able to accept myself more and more and fully appreciate my friends and family. I always remember a quote i've seen around that goes something along the lines of "life begins outside of your comfort zone" and that's quite relevant for this month. I stepped outside of my comfort zone and jumped into the deep end in some respects and came out the other end a better person for it.
MAY
May was an important month for me on an academic basis, a personal basis and.. a food basis. I'll tackle the most important one first: the food. As a mere mortal, I am obsessed with any baked good, in particular cupcakes. I love them. I could eat a whole tray in the one sitting (and I have on many occasions.) On one momentous day in May, I discovered a little Aberdonian gem in the form of the

'Cupcakes by Jo' cupcake shop

. For a relatively cheap price, you can gorge on every flavour of cupcake you can imagine - filled cupcakes, chocolate cupcakes, cupcakes with crazy icing.. everything. I was in love from the first bite. That shop alone got me through my exams, seriously.
Speaking of exams, May was the month I sat the final exams of 2nd year and the last set of exams before I went to study in France. They would also be the last set of exams of the worst semester of my academic life yet. Luckily I managed to pass them and I was over the moon. I think the fact I was in a better place mentally than when I sat my other exams previously helped. In true Aberdeen Law chums fashion, we celebrated with a huge meal out followed by amazing cocktails. Since it was the last time I would see my friends before I left for France, it was emosh and it made me realise just how much I would miss them being in lectures next to me and bitching with me in the library.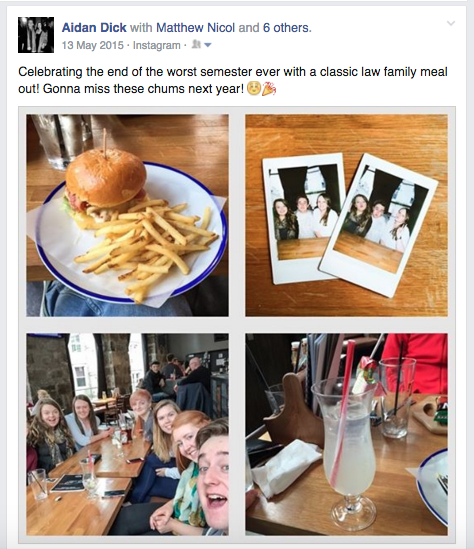 On a personal level, May helped me concrete some friendships I already had. I was finally able to open my eyes and realise the great group of people I was able to call my friends and who supported me. With Siobhan, our friendship just grew and grew and we got so much closer. That was partly aided by my laughing at her Tinder successes (or rather, Tinder failures) and the tragic lives some of our flatmates led (you know who you are..) I was also able to fully appreciate my friend Andrew, who had been the first friend I ever made at Uni. He was also my flatmate in 1st year and we had kept in touch throughout 2nd year. After exams, we took a drive to Stonehaven, a town close to Aberdeen, to get some fish'n'chips and sweets. We chatted and laughed the whole day, especially when he led us on a wild goose chase round the town to find a play park he fondly remembered as a child, to later find out it was actually in Peterhead.. There were more times in the month where I had great times with great friends but those two were the ones that stand out the most. (Enjoy this photo of Andrew, lol.)
I also went to see S Club 7 live aka the best night of my life. After all, there ain't no party like an S Club party.
JUNE
Since Uni had finished, I visited my two best friends Lauren and Heather in June. Lauren studies in Edinburgh and Heather was doing a placement in Glasgow. When I went to visit Lauren, we had also planned to go to an outdoor screening of 'Mean Girls'. When we got there, roughly half an hour before it began, there were literally thousands of people queueing, with hundreds already inside the park. Alas we were not able to go, but I still had the best time with her eating far too much and being far too lazy - it was great. I then visited Heather in Glasgow who has the comfiest couch i've ever had the pleasure of sleeping on, seriously. We went for a nice walk in Glasgow Green and went to the playpark (lol, so cool) then went back to the flat and ate loads of snacks and watched movies. (Do you see a theme going on with how I hang out with my friends?) I love them both far too much. They're probably my two favourite people.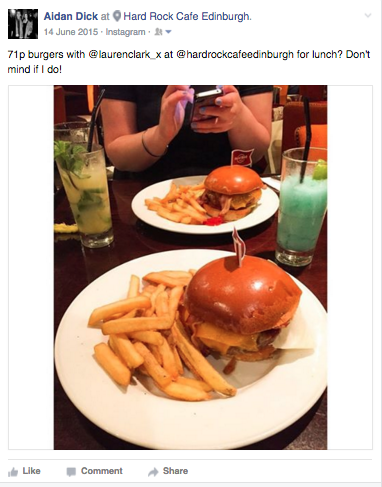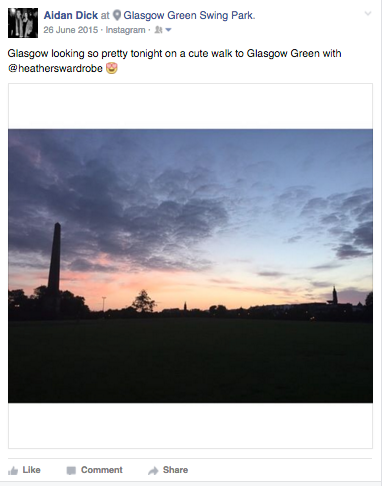 June was also a month of goodbyes, as I wouldn't be returning to Aberdeen after the summer. Sad times. Siobhan said goodbye and cried (cute) but I knew we would be seeing each other in summer anyway. I also said goodbye to my course friends who I wouldn't see over summer, and my other university friends who I wouldn't be seeing.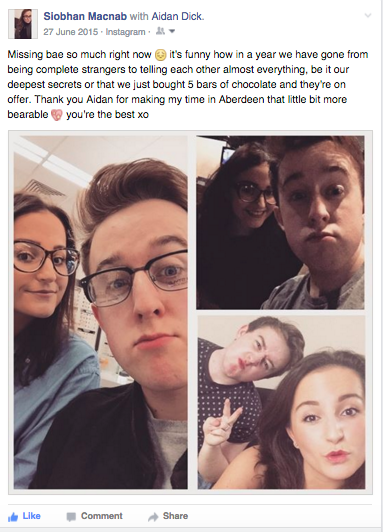 Another exciting thing happened in June too... I GOT A TATTOO. Yes, little old boring me actually got a tattoo. I had been wanting one for the longest time and eventually decided just to get it (yolo and all that.) It's a cute little cartoon-ish earth.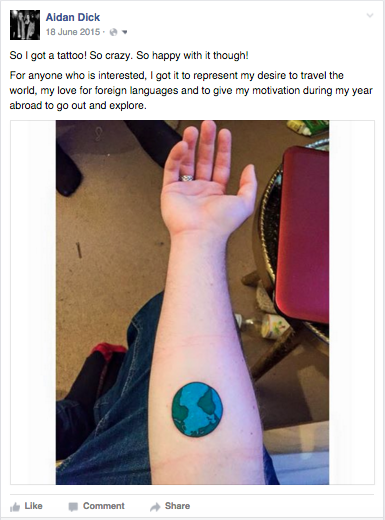 JULY
July mostly consisted of working, working and sleeping. Apart from that, I went on a short trip to Amsterdam with Heather. We spent our couple of days there wandering aimlessly round the streets, coming across an elderly tour group in the middle of the Red Light District, wishing we had brought an umbrella as we were soaked and lost in the middle of the city and drinking a tad too much but overall it was such a good trip. A highlight of the trip occurred one night when we were sitting outside a bar having some drinks, when a big group of guys in their 20's walked by and I noticed a few of them looking at me intently and chatting amongst themselves about me. Feeling paranoid, I shrugged it off until I felt a hand on my shoulder some minutes later and turned round to find 3 inebriated Irishmen had straddled the arm of my chair. They began telling me I looked exactly like their friend "Gary Gilmore" and asking if I could take a photo with them. Extremely uncomfortable but not wanting to be a spoil sport, I complied and asked to see a photo of my apparent doppelgänger. What can only be described as a younger Phil Mitchell look-a-like was shown to me. Rather than be offended I put their mistake down to how much they'd drank. Otherwise i'd still be crying at the thought of us looking alike hahaha.
AUGUST
August was the month I would move to France so most of the month was spent ensuring I had everything organised before we left. The weekend before I left, I had a BBQ/party thing at my house as a final goodbye. Andrew and Siobhan came and stayed over for the whole weekend. We went to a ceilidh, the bingo and had a long but fun night at my BBQ. My other friends from Dunoon came too. I have never before felt so appreciated and appreciative of everything in my life. I had a moment as we sat around the fire where I looked around at everyone I cared for most in the world laughing and enjoying themselves and it made me so happy to see. It's a memory I cherish.
SEPTEMBER - DECEMBER
September onwards has already mostly been documented in this blog, so I won't rant on about it again. Some highlights of my time spent in France include my weekend trip to Madrid, my trip to Disneyland and my night at the ballet. I've seen amazing landscapes in 3 different countries. I've improved my language and pushed myself further than I thought was possible. But overall, i've met lifelong friends from all over the world. In true "omg i'm on a year abroad" style, my ERASMUS experience so far has been the best few months of my life. It's everything I expected it to be and more. The University has been shite, to put it nicely, but everything else has lived up to my expectations. I can't wait to go on more trips and see more things in 2016.
If you read this whole post, I would like to thank you, apologise for my rambling and wish you good luck in finally getting out of your procrastination. 2015 was a hard year for me but it was all worth it. Here's to 2016 being the best year yet!